English League One side, Bury have lost another critical encounter as the season keeps getting worse for the team.
The outfit currently in 15th position having garnered 57 points from 45 matches prosecuted hoped to end the League One season on a high but fell to a straight third defeat in the hands of Chesterfield.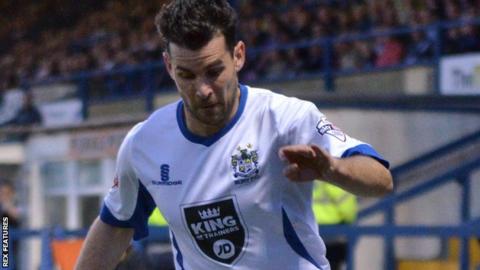 Chesterfield confirmed their place in League One next season with an emphatic victory over Bury. Jay O'Shea opened the scoring from the penalty spot after Cian Bolger had blocked Gary Liddle's run into the box. In first-half stoppage time Lee Novak's 25-yard strike deflected in to double the hosts' lead. Bury's Danny Mayor wasted a clear chance to pull one back before Dan Gardner
finished off a classic Chesterfield counter-attack to seal the win for the hosts
.
The match was a 50 – 50 but with Chesterfield having more shots attempted. Chesterfield had 16 with only six being on target while Bury could only manage five with just two hitting their targets. Chesterfield enjoyed more corner kicks while Bury fouled more on a ratio 11:9. The loss leaves Bury in Chesterfield in 18th position with 53 points from the same number of games as Bury.
Wigan Athletic and Burton remain in the top two spots respectively with 87 and 84 points. They are both set to move into the English Championship division during the summer. Millwall, Walsall, Bradford and Barnsley follow thus in third to sixth position after this round of games, though Walsall have a game in hand and could topple Millwall for third place. Scunthorpe and Gillingham also stand a chance at toppling Barnsley for sixth position as just goals' difference and two points separate them.
Blackpool, Doncaster, Colchester and Crewe sit at the bottom four of the league and are fully aware of what beholds them next season.